If you think that pet tags aren't important accessories for your little friend, well, then think again. 1 out of 3 pets will be lost or kidnapped in their lifetime. As per the survey only 26% of the 2.5 million dogs that are released in shelters are returned to their owners.
This statistic is reason enough for pet owners to consider buying pet tags for their extended family. To buy pet tags, it is important to gather certain information about them. This little guide will help you understand everything that you should about pet tags.
Why it is important to buy pet tags?
The good news is that even though many people lose their pets for time being, they are often recovered within 12 hours or so. One of the best ways to find lost or stolen pets is putting an identification mark on or around them. The most popular way to keep an identification mark on your pet is to put a tag around its collar.
After putting a tag around the pet, there are certain things the owners can be sure of-
There will be high chances that the stolen or lost pet will be returned to the owners.
The standard collar will work as a source of identification for the pet.
The pet tags are quite affordable and instead of hiring a team to find the lost pet, one can spend as low as $9 to ensure the safety of their pet.
These tags are easily available in the market and won't be an uphill task to find the one which suits individual pet.
What are the benefits of pet tags?
Apart from safety and identification, following are a few advantages of using pet tags-
They are a unique and easily readable by anyone.
They do not need a lot of effort to put around the pets.
They are completely customizable.
They are available in abundance.
They provide instant identification.
Are there any drawbacks of pet tags?
There aren't a lot of demerits of using pet tags, especially when the benefits are more than enough. Even so, following are some drawbacks of using a lot of pet tags.
Pets run or walk a lot and there are chances that the tags can get lost.
A lot of tags can become quite a nuisance for both the owner and the pet.
If not made from high-quality material, these tags can be quite uncomfortable for the pets.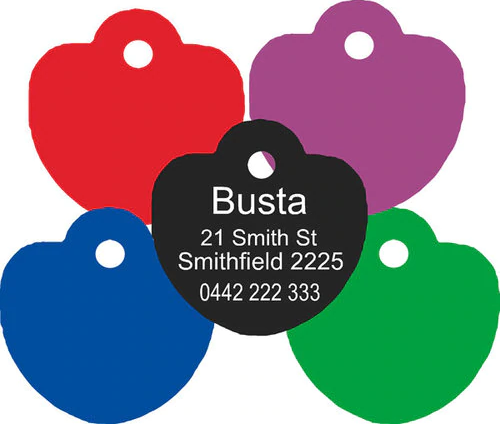 What information should be included in the tag?
The space in the pet tags is quite limited. Thus, it is important to use it up wisely. Here are some of the most important things to jot down in the pet tags-
Pet's name
One or two phone numbers
City's name
A message
It is advisable to never mention the home address for safety reasons. Instead of the address, one can add their phone numbers for people to reach them.
Clearly, pet tags are quite important for the pets to wear. So, make sure to buy pet tags that are technologically advanced and of high quality.